Scribblar PRO - Live Tutoring On Your Own Website
With Scribblar PRO you can integrate the entire functionality of Scribblar into your existing website. It enables you to provide all of Scribblar's features to your existing users using your own logo, look and feel and color scheme. Many leading eLearning providers, school districts and universities are already using Scribblar with great success. Our API gives Scribblar PRO customers programmatic access to all core Scribblar features.

Example Integration: Read a case study here (PDF, 1.2MB)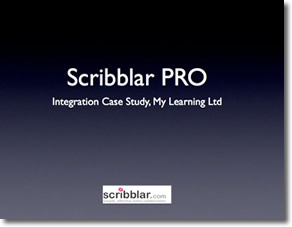 With Scribblar PRO you can eliminate complex hosting arrangements and bandwidth costs by using our turn-key system. Integration is quick and painless.
You could be running your own integrated online classroom and tutoring platform in a matter of days or even hours.

Contact us today with your requirements and we will provide you a custom quotation and fixed monthly price without any hidden fees.

The average cost of our Pro account works out at less than $0.50 per tutoring session. Accounts run month by month without any tie-ins, and payments are securely handled through Paypal.
We can accommodate startups, individual tutors and small scale businesses as well as large clients with requirements for several thousand tutoring sessions per month.
Get in touch now for a personal service.